3x5 Washington State Indoor Flag with Sleeve
Regular price

Sale price

$106.95

Unit price

per
This 3'x5' Washington State flag features a digitally printed seal on our commercial quality 200 denier nylon fabric. The double sided seal of George Washington has an opaque material sewn between the opposing state seals and is sewn back to back so that the flag reads correct on both sides. Finished with a lined sleeve and leather tabs on the inside of the sleeve for easy attachment to indoor/parade style flagpoles. This is an ideal size for display on a 7' or 8' pole.
Made in the USA.
The original design of the Washington state flag was somewhat of a family affair. The emblem of the state seal was first designed in 1889 by Olympia jeweler, Charles Talcott. Talcott used an ink bottle and a silver dollar to draw the rings of the seal. He then pasted a postage stamp in the center for the picture of George Washington. His brother, L. Grant Talcott, lettered the words "The Seal of the State of Washington 1889," and another brother, G. N. Talcott, cut the printing dye. This seal was later adopted for use on the state flag which was designed by the Washington chapter of the Daughters of the American Revolution. On June 7th, 1923, over 30 years after Washington became a state, this flag was officially adopted into law.
Although this flag has undergone minor revisions since its adoption, to include the use of standardized colors in 1955 and a modernized seal in 1967, it continues to be the only state in the union to possess a green field (background). Additionally, it is the only state flag to display an image of an actual person. Per WAC 434-04-017, the Washington State flag is one of only two state flags in the nation that requires double sided construction to ensure the design is readable from both sides.
Share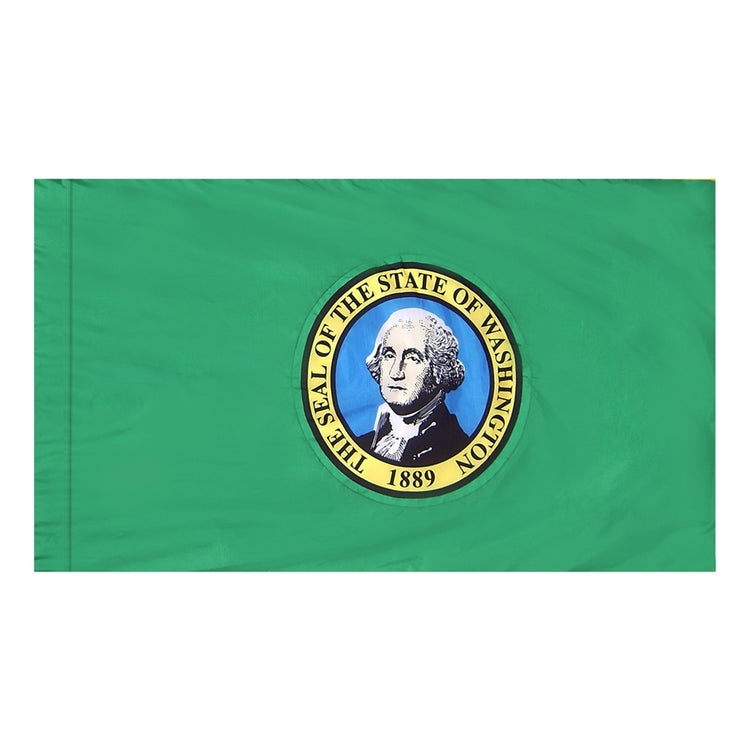 FAQs
Our products are made from a variety of materials. Our strongest American made flags are made from from 200 denier nylon or 2-ply spun polyester flag fabric. While we carry other types of materials for economy flags, these two are the most popular materials we offer.
Flagpoles are made from aluminum, fiberglass, or steel as well as many of the components that accompany them.
Our American flags, 1-piece aluminum flagpoles, and aluminum component are made in the USA as are most State, International, Military, Nautical, Patriotic Bunting & Decorations. We try to source our goods from US Manufacturers that use US raw goods to manufacturer their products. Items that are imported are noted on the individual product description.
Yes, we are open for in-store shopping. We are following Washington State COVID protocols for retail businesses including employee health checks, increased cleaning practices, social distancing, & the wearing of face coverings. For store hours including our holiday schedule, please click here.
Our products are shipped the same or next business day via USPS or UPS.