2x3 Betsy Ross Historical Nylon Flag
Regular price

Sale price

$38.50

Unit price

per
This historical 2'x3' Betsy Ross flag is made from 200 denier nylon fabric and features thirteen embroidered stars and thirteen sewn stripes. It is finished with a strong white polyester canvas heading and two brass grommets for easy attachment to your flagpole.

Made in the USA.
The Betsy Ross flag is one of the earliest known designs of the flag of the United States. The flag was named after a widowed American upholsterer and flag maker Betsy Ross. The Betsy Ross flag features a blue canton with thirteen 5-pointed stars and thirteen alternating red and white stripes representing the original 13 colonies that fought for independence during the American Revolutionary War.

Many flag historians do not believe Betsy Ross to be the original maker of the first flag, however her story has become publicized and accepted by many Americans. According to the legend, the original Betsy Ross flag was made in 1776 when a secret committee including George Washington, Robert Morris, and George Ross, asked her to sew the first flag. The meeting took place in her home sometime in late May 1776 with the first flag being completed in late May to early June. Betsy's contribution to the flag design was the idea that a 5-pointed star versus the original requested 6-point star would be simpler to cut and therefore was adopted into the design.

The Flag Resolution passed on June 14th, 1777 by the Second Continental Congress established the standard for the official United States Flag. The specific design elements of the flag were not mentioned however the legal description gives the Betsy Ross flag legitimacy. This famous flag as we know it today has been featured in parades, historical ceremonies, artworks, and continues to be one of the most popular symbols of the American Revolution.

Share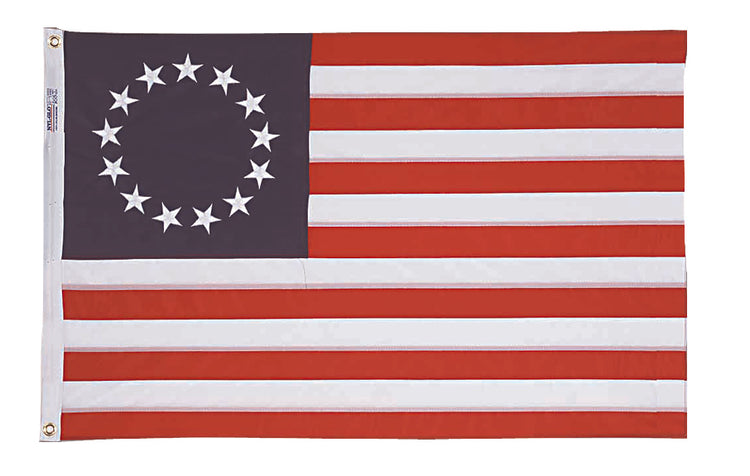 FAQs
Our products are made from a variety of materials. Our strongest American made flags are made from from 200 denier nylon or 2-ply spun polyester flag fabric. While we carry other types of materials for economy flags, these two are the most popular materials we offer.
Flagpoles are made from aluminum, fiberglass, or steel as well as many of the components that accompany them.
Our American flags, 1-piece aluminum flagpoles, and aluminum component are made in the USA as are most State, International, Military, Nautical, Patriotic Bunting & Decorations. We try to source our goods from US Manufacturers that use US raw goods to manufacturer their products. Items that are imported are noted on the individual product description.
Yes, we are open for in-store shopping. We are following Washington State COVID protocols for retail businesses including employee health checks, increased cleaning practices, social distancing, & the wearing of face coverings. For store hours including our holiday schedule, please click here.
Our products are shipped the same or next business day via USPS or UPS.